Unlock Art™ with Le Méridien Denver Downtown
Gain a new perspective on Denver's thriving art scene with one-of-a-kind experiences to enhance your hotel stay. Le Méridien Denver Downtown is proud to offer Unlock Art™ - an innovative partnership that offers guests complimentary access to local, contemporary museums and cultural institutions. Simply present your room card at participating destinations, and uncover a world of creativity.

Through the Unlock Art™ program, Le Méridien Denver Downtown partners with cultural centers, vendors, and artisans to offer local and inspiring experiences. From stunning exhibits at Clyfford Still Museum to complimentary whiskey tastings and bike tours you won't find anywhere else, our hotel is committed to making your visit dynamic, delicious, exciting, and unforgettable.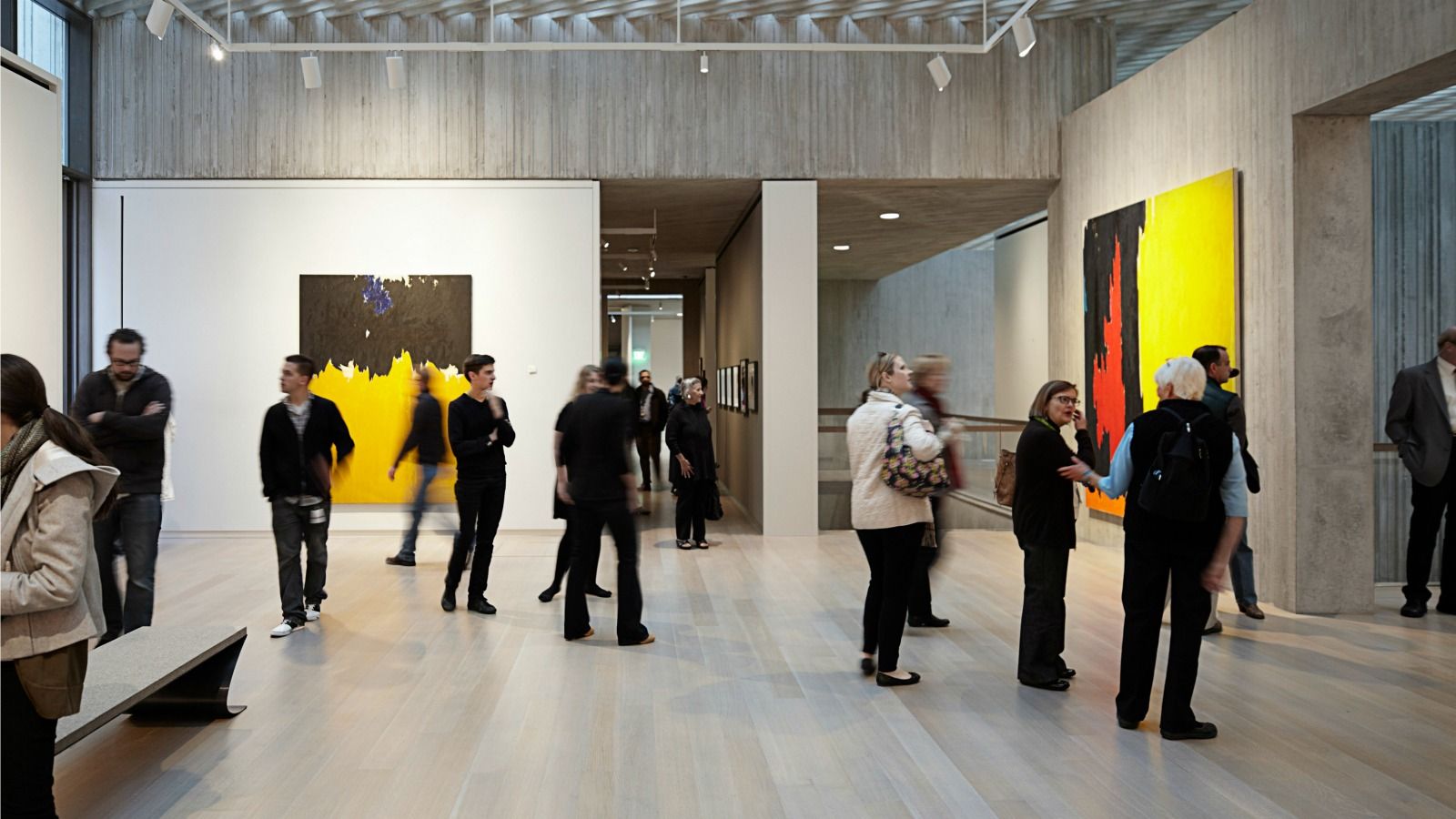 Unlock Art™ Perks & Museum Partners
Le Méridien Denver Downtown has partnered with Clyfford Still Museum as the hotel's signature Unlock Art™ partner:

Guests can gain access to the museum free of charge by presenting their

hotel

room key during their stay.
Unlock more of Denver and enjoy other complimentary experiences with locally crafted food and beverage, culture, and more:
Local Artwork, Local Contribution
This painting, by local Denver artist Jennifer Davey, was devised based on the question "What does Denver Mean to You?" and allowed guests at a Le Méridien Denver Downtown community event to contribute to the art with drawings, notes or comments as their answer to the question.

The artist began by drawing a compass, highlighting North to reference a clear sense of direction, as well as Clyfford Still's use of vertical forms to express a human being who is vital and strong. She then added an aerial map of downtown Denver. Although not for navigational purposes, 14th Street and California are the two edges of the map pointing downward, so Le Méridien Denver Downtown is "located" almost in the center of the painting.

Guest contributions are deep in the background of the painting, with one of the most consistent being "the amazing people" that make up Denver. Although most of the writing from the event is obscured, there are hints of it through the art in the small uncovered rectangles and squares.

Finally, the sweeping of white to capture a sense of energy and motion reflecting the people who, of course, are what make any space vital.
You can watch the following video to see the painting being made: PLAY VIDEO>>
1475 California 80202, 2016. Oil and chalk on canvas, 60 x 60 inches.
Jennifer Davey
This painting, by local Denver artist Jennifer Davey, was devised based on the question "What does Denver mean to you?"
KEY STAKEHOLDERS INVOLVED IN THE CREATION OF THE PAINTING INCLUDE:
City Council President Albus Brown, City Councilwoman Kendra Black, Visit Denver President Richard Scharf, Visit Denver VP of Sales Rachel Benedick, Julie Sprigg Metro Economic Development Council, Nancy Walsh Denver Museum of Nature and Science, Lance Enders Denver Metro Chamber, Pablo Henderson Starwood Hotels & Resorts, Sonia Rae Clyfford Still Museum, Ron Stewart, Marriot Hotels & Resorts, Karen Finberg Marriott Hotels & Resorts, Shawn Bayer Denver Center for Performing Arts, Turid Nagel-Casebolt Denver Mayors Office Business Development, Barb Grogan Etkin Johnson, Steve Poe Poe Companies, Pete Sams White Lodging, Spencer Campbell 5280 Magazine, Laura Decker Renegade Brewing, Joelle Coons Laws Whiskey, Beth Conrey Bee Squared & Colorado State Beekeepers Association, Justin Park The Real Dill, Nicki McTague Infinite Monkey Theorem, Moose Koons Peachstreet Bourbon & Rocky Mountain Soda Company, Kathe & Brad Page Colorado Cider Company, Ed Dobbs Flatirons Land Rover.
Explore other Unlock Art™ partners, museums, and perks with Le Méridien Hotels & Resorts. Learn more >>